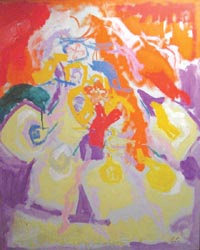 ETHEL SCHWABACHER
Ethel Schwabacher didn't belong to the official scene of Abstract Expressionism, but was in close touch with many of the abstract expressionist artists of the 50's and 60's, such as Mark Rothko, Barnett Newman among others.

Schwabacher started her art education in sculpture - at age 15 she enrolled at the Art Students League and studied sculpture at the National Academy of Design until 1921. In 1923, after her apprenticeship in stone carving with the sculptor Anna Hyatt Huntington, Schwabacher abandoned sculpture in 1927 and enrolled in Max Weber's painting class at the Art Students League. That year she met Arshile Gorky, with whom she developed a life lasting friendship and later became his biographer.

After her return from Europe, where she lived from 1928 to 1934, Arshile Gorky, with whom Schwabacher took independent studies between 1934 and 1936, introduced her to automatism. Gorky's surrealistic-inspired imaginary, biomorphic abstractions and erotic forms drawn from his unconsciousness fascinated Schwabacher and she became interested in exploring her own psyche. The paintings from this period combine automatism with abstract forms, referring to nature. Through the 50's, Schwabacher
developed the interconnected themes of womanhood, childbirth and children.

Following the death of her husband, Wolf, in 1951, the topics of loss, anxiety, loneliness and separation infiltrated her work. During those painful years Schwabacher's abstract paintings were searching through the personal traumas, remembered experiences and fear of isolation - which she at that time interpreted through the Greek myths.

Schwabacher's work can be found in the collections of the Metropolitan Museum of Art, the Whitney Museum of American Art, the Solomon R. Guggenheim Museum, the Jewish Museum, the Brooklyn Museum of Art, the Rockefeller University, the Miskin Gallery (both in New York City) and many other museums and public and private collections in the United States. She has had solo exhibitions in Betty Parsons Gallery, New York in 1953, 1956, 1957, 1960 and 1962. Her work was included in many of my group exhibitions.